Vortex Network News (VNN) was founded in 1981 by Aurora and Michael Ellegion when they discovered that there was a cover-up on human appearing extraterrestrials and a suppression of technology and science. Their eye-opening personal experiences with human appearing extraterrestrials provided them with a unique perspective that few people on Earth possess. The Ellegion's have worked with people from all walks of life, including retired military personnel, cutting edge scientists, holistic healers, and futurists, all who agree, the suppression of information that can transform society must now be given freely to all. With this in mind, VNN brings to you what we feel to be the most relevant information to transform, enlighten and create a society where each and everyone of us is allowed to develop our greatest potential. Your ideas, articles and information are welcomed!

William Alek (a.k.a., Doctor Whodini) joined the team in 2008 and provides a unique technological and scientific perspective to VNN.He is also the president and CEO of a cutting edge technology company called AuroraTek.AuroraTek is dedicated to bringing forth advance and exotic FREE Energy Self-Sustaining Technologies to the world.

Michael Ellegion left VNN in 2010 and is currently living in Seattle, Washington.

Host of Vortex Network News Hour - Aurora Light

Since her early years growing up in the Detroit area, Aurora has had firsthand knowledge of human-appearing ETs. Her experiences consist of life-saving interventions, visitations, telepathic communications, and having been aboard their craft. They have provided guidance and have monitored her throughout her life.

Having appeared on hundreds of television and radio shows in the U.S. and internationally over the past two decades, including the BBC and Armed Forces Radio, Aurora has spoken on human-appearing ETs and the nature of the cover-up about them.

She co-authored a book with Michael Ellegion called Prepare For The Landings.

Aurora is Vice President of Investor Relations and Special Projects at AuroraTek. She can be reached at 480-474-4388.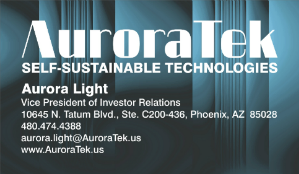 Host of The AuroraTek Hour - William Alek (a.k.a., Doctor Whodini, a.k.a, The Wizard of AZ)

William has more than 25 years of experience as an embedded computer hardware and software engineering consultant. He has provided consultation in these areas for companies such as Motorola, Honeywell, General Electric, Bendix, Rockwell International, Mack Trucks, Cummins Diesel, etc. He is a 1979 graduate of the Illinois Institute of Technology, Chicago, Illinois, with a B.S.E.E. degree.

He is also the Chief Executive Officer and President of the AuroraTek, Inc., a company that is pioneering advanced exotic energy technologies and sustainable green holistic community lifestyles. The company is incorporated in the State of Nevada as a C-Corp and is operating in the State of Arizona. William guides the activities of the company by bringing together qualified individuals desiring to be part of our cutting-edge technology team. Visit AuroraTek for more information.